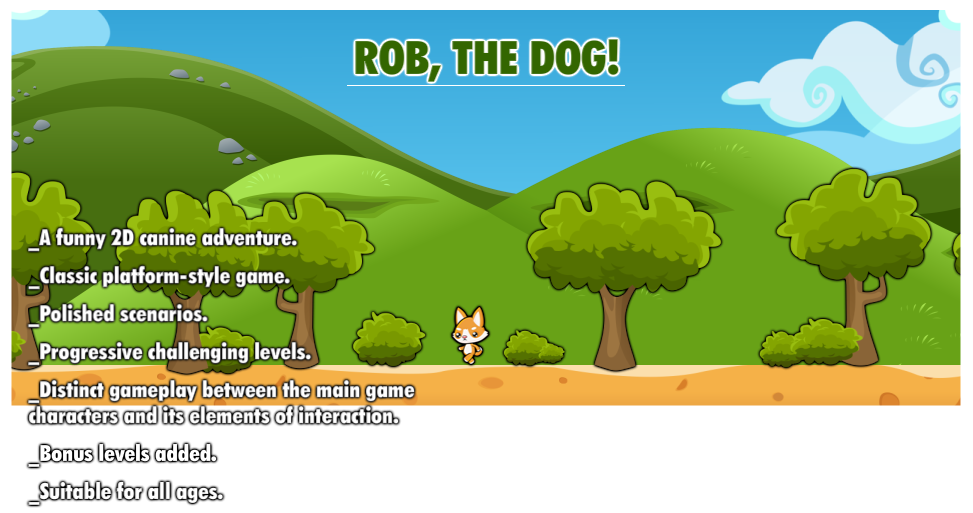 Rob, The Dog!
A downloadable game for Windows

A polished, intuitive and addictive platformer game story about a cute little dog making his adventurous way through the woods and old caves under colorful and magical scenarios.

That's correct! "Rob, The Dog!" still is [IN] development...
And will stay in development for quite some more time because the main idea behind this project is to make of it a several & several hours game project of cool and fun game experience! And as you guys can imagine, that requires time! ;)
In order to develop "Rob, The Dog!" (and making future updates available from time to time), I'm using the "game pack" process, meaning that everytime a game pack is fully completed and after being intensely tested, it will be incorporated into the main game and available for download.
Each "game pack" consists of 3 new game levels, namely, a "forest-type" level (easy difficulty level), a "cave-type" level (average/tough difficulty level), and a "bonus-type" level (score and fun purpose level). The current file available for download already has in it the first two pack levels (a total of 6 game levels), which represents about 1 hour of permanent gameplay.
Hope you guys may enjoy "Rob, The Dog!".
And stay tuned for some more good stuff very soon...

"Rob, The Dog!" is played under a 1200x600 pixel resolution window, using the following controls:
[L_Arrow/R_Arrow]
Movement keys
[Space_Key]
Rob performs the Jump movement
[L_Arrow (OR) R_Arrow + D_Arrow]
Rob performs the Slide movement
Only available in specific moments/sectors of the level
[Return/Enter_Key]
Rob interacts with characters and/or objects
[LMouse_Button]
Collect _hidden_ bonus items
[R_Key]
Restart the current level
[Escape_Key]
Display level goals and main game controls
Download
Click download now to get access to the following files:
RobTheDog_New.rar [Release #2 - April, 2018]
17 MB
RobTheDog_Old.rar [Release #1 - March, 2018]
16 MB
Comments
Log in with itch.io to leave a comment.
Do you share the code anywhere?
Thanks!
Greetings!
I think I might like Rob, The Dog! And Not The Rabbit! if it was not for a few points:
- I rage-quit at the 2nd level because I find the difficulty way too frustrating, especially the facts that spikes instakill instead of just hurting and that dying reset the level instead of just putting me back at the start without losing my progression in the level. I don't enjoy unforgiving games, I don't play games for adding pressure in my life, I want to enjoy myself. Is that how you want Rob, The Dog! to be?

- It feels so silent, please just add musics which put us in the mood in levels and intros and sound effects for jumps to make them more lively.
- I use to hold jump in order to jump longer, as I think pretty every gamer used to platformers games does, however in Rob, The Dog! And Definitely Not The Rabbit!, holding the jump makes Rob to jump again as soon as he hits the ground. I don't think that you intended to make it this way so I think the game might need a more accurate jumping instruction to understand that it is supposed to jump only once when the player presses jump only once, even if they hold it, it is not supposed to keep jumping again and again.

Nice platformer. Idea and gameplay are simple and that's good and bad thing. Good thing is that you can just jump right in and play, no need to learn difficult mechanics. Bad thing about that is that I did not find the game so interesting after playing it a while. So in my opinion game is maybe too simple. (But I think that's what you tried to do: casual, simple game).
Game art is enjoyable and makes me happy! Gameplay is also pretty good. Only thing that bothers me is that hitboxes are sometimes too big: you can die pretty far away from spikes and enemies.
Keep it going!